fully customized investment consulting services
Our Energy Investment analysis integrates structured financing strategies with various funding options to provide simple cash-flow from projects.
Our systems are installed on both non-profit and owner occupied buildings. We can facilitate all needs, either investor owned, energy performance contract, or owner purchase. EnergyLink can work with every customer ensuring maximized returns through our top notch team of engineers.
Retail complexes, office complexes, educational institutions, manufacturing facilities, government buildings, industrial manufacturers, shopping malls, retail and food vendors, shipping and receiving depots, banking establishments, medical campuses, apartment complexes, non-profit organizations are some examples of facilities and building types in which we provide customized energy investment consulting.
Energy funding sources
Our financial analyst team prepares several financing options for our customers allowing for flexibility in the project. We provide a variety of options, several involving no out-of-pocket expense, each offering different terms and rates. Here is a list of several options we work with:
The USDA Rural Development Office offers grants (up to 25% of total project costs) and loans (up to 75% of total project costs) that can be used for energy effcient and renewable energy projects. This is a great financing option for rural small businesses (50,000 people or less).
Provides 100% funding for energy efficient and renewable energy improvements. PACE is an off-balance sheet funding tool that adds an annual assessment to your property taxes and doesn't utilize any of your existing lines of credit. PACE is designed to help businesses and property owners make improvements that result in positive annual cash-flows.
Participation from third party investors
A third-party capital provider that specializes in financing energy efficient and renewable energy projects. Terms are approximately 5-7 years with a fixed interest rate of 5-6%. This form of financing requires no money down, and it collateralizes the systems installed.
Energy performance contracts from EnergyLink
An energy financing option EnergyLink offers to customers which allows your company to install the project with no money down. A portion of your monthly savings will finance the project costs, and leave the customers with 5-20% monthly savings.
EnergyLink will work with your bank and loan officer to negotiate loan terms, and financial analysis for your project. Our past projects have been fairly creative with financing from using existing equity in their building to collateralize the loan to utilizing a conventional commercial loan. There are several possibilities which EnergyLink can help your company explore.
Local utilities offer loans to help your business make energy improvements to your facility. These are low interest and terms vary based on specific projects. Contact your local city or utility provider to see if they offer any efficiency or renewable energy loans.
Additional investment benefits
With our customized energy investment services you can expect an effortless surplus cash-flow
In addition to the year-over-year cash-flow from the utility savings, other incentives include government grants, utility rebates, tax credits, and accelerated depreciation schedules. Our energy investments create a lowered operating expense every year. This then creates a surplus cash-flow without effort of creating additional revenue.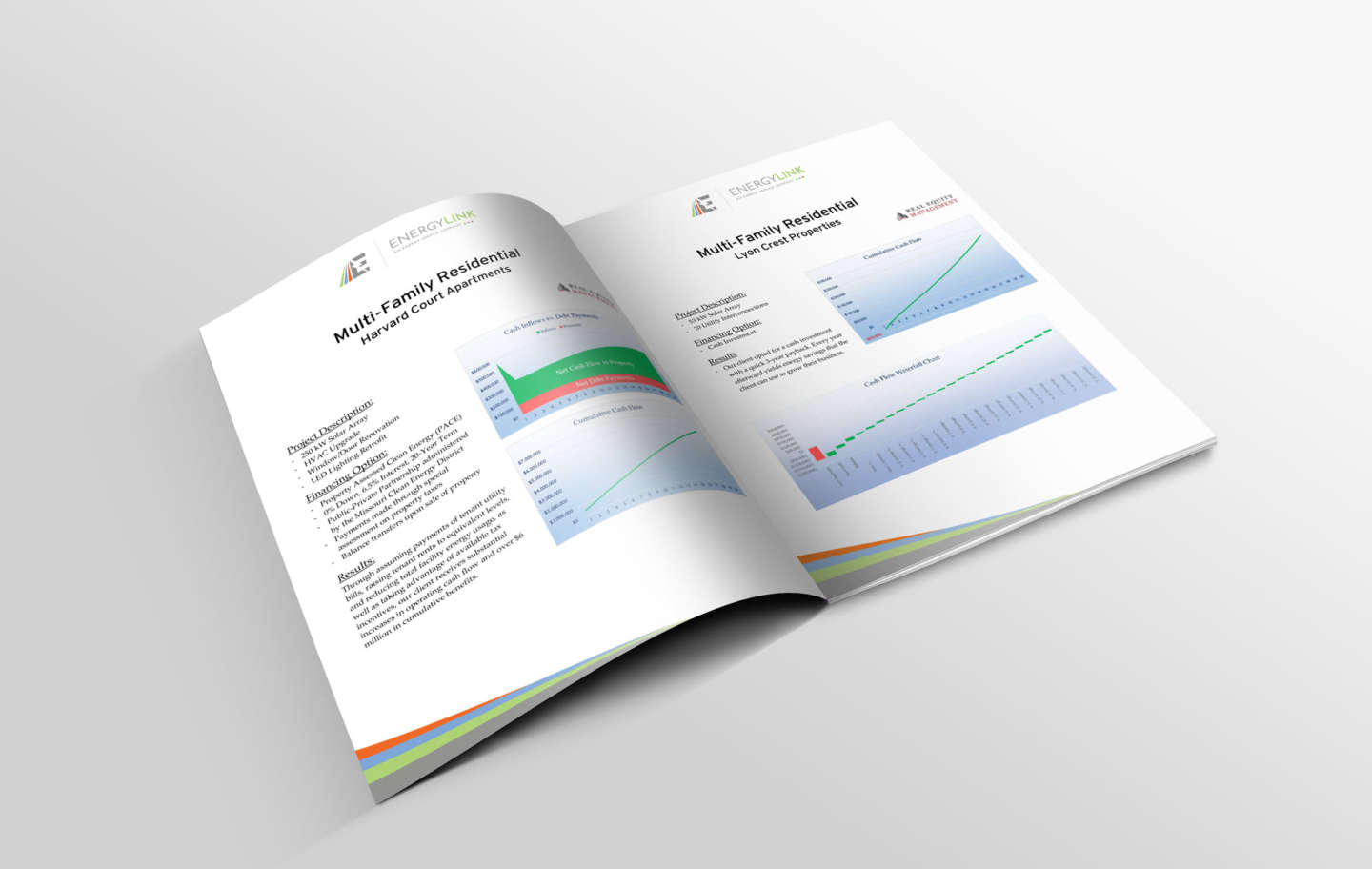 The U.S. government offers many grants for businesses and nonprofit organizations who are interested in energy efficiency and renewable energy.
To incentivize customers, utilities offer rebates for energy improvements such as solar (PV) panels, LED lighting, HVAC upgrades/automation, insulation, and more.
The Solar ITC (Investment Tax Credit) offers a 30% tax credit for businesses, utility providers, and homeowners who interconnect solar on their property.
Many energy efficiency and renewable energy improvements, such as solar (PV) panels, lighting, insulation, HVAC, and energy storage offer accelerated depreciation schedules for businesses.