Energy Solutions for Hospitals
Discover how your hospital can integrate the latest renewable and energy efficiency tech to dramatically lower operating costs
Which systems use the most amount of energy in hospitals?
Hospitals account for around 8% of the total energy consumption in the US and use around 2.5 times more than the average commercial building space. With $6.5 billion being spent on energy costs for hospitals, it's important to understand which systems use the most energy so progress can be made to reduce their impact on your operating costs.
The best energy solutions for hospitals

Hospitals use a lot of water heating and space heating. Installing solar thermal panels can help reduce how often your hospital's HVAC and boiler systems run. The back plate behind the panels stores heat energy and, when combined with a heat pump, distributes it throughout the building, providing natural, lower cost heating.

With cooling accounting for 34% of hospital electric usage, installing geothermal heat pumps can be a valuable resource to bring in natural, cool air. In the summer, heat pumps can pull cool air from the ground, and in the winter, they will pull in warm air from the ground. That air can then be distributed throughout the building, requiring your HVAC system to run less often.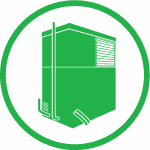 Combined heat and power (CHP)
As an alternative to solar, CHP can serve as an on-site power generation system for hospitals. They convert natural gas into electricity, which is particularly useful for hospitals who may lack the roof space or sun exposure for solar. Combined heat and power systems also use a waste heat recovery system to recover waste heat from machinery and convert it to electricity, making it a great resource to keep power on during outages.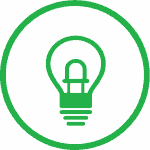 Lighting accounts for 13% of hospital electric use, mainly because the lights never turn off in hospitals. Your hospital runs 24/7, so focusing on lighting efficiency is critical to lowering operating costs. If your hospital is using fluorescent or incandescent lights, you could instantly reduce lighting costs by up to 30% if you install LED lights.

Upgraded HVAC and DOAS systems
Many hospitals have been around for decades, meaning many of them likely have old, outdated HVAC and Dedicated Outdoor Air Systems. With an average lifespan of 15 to 20 years, many hospitals are likely in need of upgrades. Installing new units with higher SEER and ENERGY STAR ratings will dramatically reduce heating and cooling costs, as well as your hospital's overall electric demand charges.
How can energy solutions for hospitals be funded?
Take action to improve your hospital's energy use
With the prices of renewable energy falling and new tech improving performance year over year, now is the time to invest in energy solutions for hospitals. Find out how you can feasibly start an economically viable project today.