Commercial Backup Generators
Safeguard your profit-generating assets with a backup generator
Benefits of installing a commercial backup generator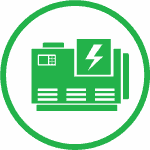 Never lose power with a commercial backup generator
The main purpose of a commercial backup generator is to ensure that an organization is able to keep all of its important, profit-generating systems continually operational, even in cases of emergency, such as power outages or natural disasters.
These diesel-powered backup generators kick in when your original power source is not delivering power to the systems you specify; once this happens, power stored in the generator takes the place of the main power source.

Protect important company assets
Safeguarding areas which require heating and cooling, such as refrigeration rooms, is another crucial benefit of having a backup generator on hand. It's also important to note that, while servers, heated or cooled rooms, and other important rooms are protected by backup generators, it is not typical for entire buildings to be backed up.
This means that, in setting up backup generators, a business decision will need to be made to figure out which rooms are crucial to maintaining your company's operations.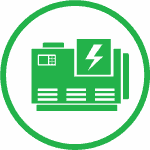 Stored in a secure location
For convenience, ease of installation, and practicality, backup generators are typically located as close to your building's electrical room as possible; this also reduces the length of your conduit pathway and lowers construction costs. Usually, backup generators end up in the back of a building.
Tech design implementations


Trusted brands we work with who source products responsibly
Other products that work well together
Is a backup generator right for your company? Consider these factors
Complete your contingency plan
Get a backup generator to ensure that your company is always prepared for emergencies.