Variable Frequency Drives
Maximize your HVAC energy savings by installing VFD's
Learn about variable frequency drives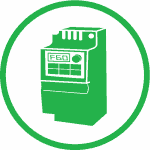 What are variable frequency drives?
Variable frequency drives (VFD's) are a control mechanism added to HVAC systems which help to adjust the overall system's motor speeds based on the output required. In other words, VFD's adjust the speed of the motor running in your HVAC system to match the actual required speed to properly heat or cool your facility based on the requirements sent to it by your thermostat or building automation system.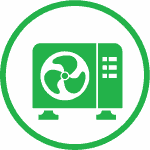 VFD's are added components to HVAC systems, so your current HVAC system may not have one. Including one will ensure that your HVAC system's motor is never wasting energy by running more than it has to. By doing this, HVAC efficiency is dramatically increased and the cost to run the system is significantly lowered.
Tech design implementations

Trusted brands we work with who source products responsibly
Other products that work well together
Are VFD's right for your company? Consider these factors
Improve your HVAC system's performance
Install variable frequency drives and improve HVAC efficiency, resulting in higher energy savings.