Take the first step towards getting EnergyStar certified and reap energy savings rewards today
What EnergyStar is and why EnergyStar Certifications Matter
EnergyStar provides certifications which confirm to building owners or managers that their building meets the program's required energy efficiency standards. To get a certification, relevant information about your building must first be put into the EnergyStar Portfolio Manager. After this is done, you are assigned an EnergyStar score which determines whether you meet the requirements to be certified. If not, EnergyLink can help!
EnergyStar certifications are important because in many cities around the US you are required by law to meet certain EnergyStar standards. Compliance with benchmarking laws and programs, like Energize Denver for example, is crucial. Also, your EnergyStar score can help you determine if you're paying too much to run inefficient equipment. The higher your EnergyStar score, the more likely your organization is operating efficiently and saving money on utility bills.
Make sure you're compliant with your area's benchmarking laws
Getting EnergyStar certified means you are in compliance with benchmarking laws in your area. Failure to comply may cause your organization to incur hefty fines which could easily be avoided. Cities like Denver have recently enacted strict laws that must be adhered to.
The Energize Denver program is run under the Dept. of Public Health and Environment, which is in the Environmental Quality division. The goal of Energize Denver is to meet Denver's 80×50 Climate Action Plan goals that buildings use 30% less energy by 2030, use 50% less energy by 2050, have 50% less thermal heating emissions by 2040, and that all new buildings are net zero energy by 2035. The Benchmarking Ordinance, part of the Energize Denver program, requires that all buildings in Denver over 25,000 sq ft must assess and report energy performance by June 1st each year using EnergyStar's Portfolio Manager.
This is one example of a local benchmarking law. To find out more about laws in your area, click here, or check out the map below.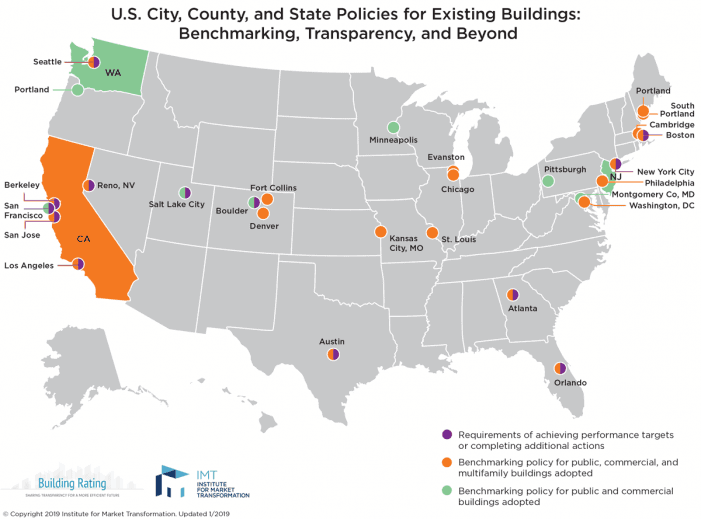 Benefits of an EnergyStar certification
Steps to becoming EnergyStar certified
Get EnergyStar certified today
Realize the high status, improved efficiency, and increased energy savings that come with being EnergyStar certified.