EnergyLink: A National Energy Service Company
Helping commercial, industrial, nonprofit, and government entities adopt new renewable energy and energy efficiency tech with the goal of improving our clients' sustainability, efficiency, and profitability
Disrupting the renewable energy industry
With customized solutions that are #MoreThanSolar
A nationally accredited ESCO driven by an economics-first approach
EnergyLink is a NAESCO accredited Energy Efficiency Contractor (EEC) who designs, builds, and funds renewable energy and energy efficiency products for commercial businesses, public institutions, cities, municipalities, and nonprofits. Our team has a proven track record of success.
What's different about EnergyLink?
Unlike most competitors who focus on one niche, like just performing auditing or doing EPC work, the EnergyLink team goes a step further and handles funds sourcing and financial analysis to ensure your project is as economically viable as possible. Instead of dealing with multiple intermediaries, you only have to work with our team, from the start of the project to its conclusion.
After conducting an energy audit to evaluate your building's current energy systems, EnergyLink's team will pinpoint areas for improvement and suggest solutions in a detailed, custom proposal packet.
Looking for specific information about EnergyLink?
Download our Capabilities Report to see our certifications, core competencies, differentiators, product and service offerings,  corporate information, and more.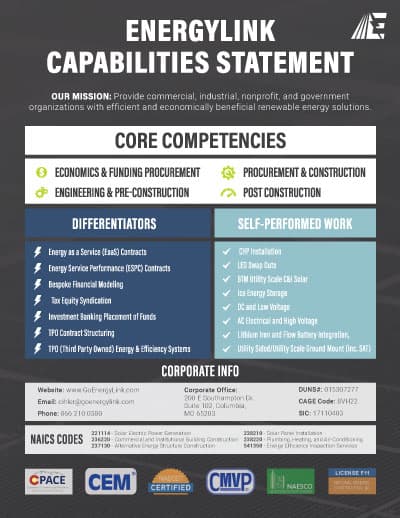 Key benefits of working with EnergyLink
Learn more about us and our services