On September 2, President Biden announced regional awards for the $1 billion Build Back Better Regional Challenge. This program was instated as a part of the American Rescue Plan to help boost economic activity in communities. This $1 billion grant competition challenged communities to identify a set of interwoven investments that could transform their local economy, expand economic opportunity and competitiveness, and create thousands of good jobs.
Each Build Back Better awardee will receive funding between $25-$65 million to invest in their strategic project, with 123 separate projects across 24 states. In addition, this federal funding will be matched by more than $300 million of local investment, with support from over 450 private sector and 27 labor unions or workers organizations. Key states for clean energy development include New York, West Virginia and Kentucky. See the map below to learn more about the project locations and types of developments.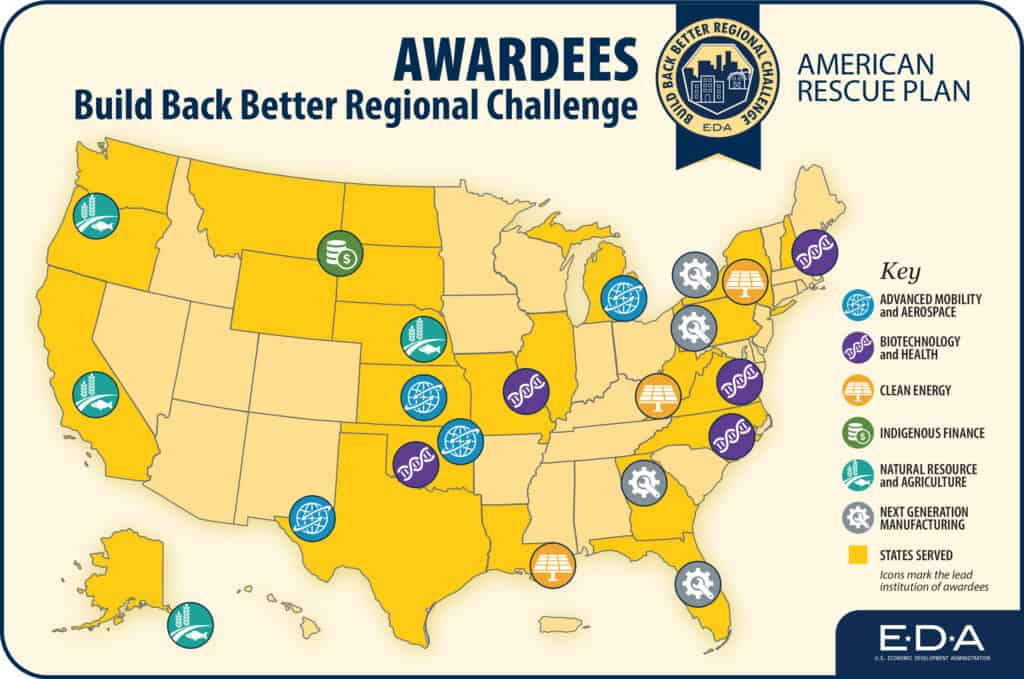 Initally, 529 applicants applied to the Build Back Better Regional Challenge. Of those applicants, 60 were selected as finalists– receiving $500,000 seed grants for projects. The Biden Administration emphasized equity in the consideration of the final 21 regional awards, with a focus on rural, Tribal, and coal communities, as well as communities facing high and persistent poverty.
Looking into developing an energy project?
As opportunities for incentives continue to grow to meet a more sustainable future, starting an energy solution project can benefit your organization greatly. Partnering with EnergyLink will expedite the process of designing, building and funding energy solutions across multiple project scales for your organization. Get started by clicking the button for a free quote. Want to stay up-to-date on the latest energy industry news? Fill out the form below.