Combined heat and power (CHP) units use natural gas efficiently to generate power. It is less wasteful than its alternative conventional systems because it captures and uses excess heat for its perspective facilities that conventional systems discharge into the atmosphere. Almost two-thirds of energy used by conventional systems is wasted in this way. In an effort to avoid this waste and save on utility bills, more facility and building owners are choosing to install a CHP in their space. Today, there are more than 4,400 facilities that utilize combined heat and power units. Combined heat and power can have commercial, residential, institutional and municipal applications and can be used by an individual facility or as a district energy or utility resource.
What is combined heat and power?
CPH units are stand alone power systems that use natural gas as fuel to produce power that is meant to be consumed on-site. The generators burn combustable gases to produce electricity and useful thermal heat, like steam or hot water, simultaneously. Various combustable gases such as natural gas, propane and bio fuel are used for the fuel source in combined heat and power units. Captured heat from a combined heat and power system can be used to improve the efficiency or satisfy the needs of building systems like space heating, domestic hot water or boiler loops. See the CHP unit diagram below.
How do combined heat and power units work?
A CHP unit works like a typical generator in many ways, besides it use of a case heat recovery system. This system is used to recover the excess energy released in the process and it then utilizes this energy for heating conditioned spaces during colder periods. Combined heat and power units also operate at 80% efficiency while conventional boiler systems operate at 60% efficiency. CHP will work in conjunction with your building's boiler system to satisfy your specific needs.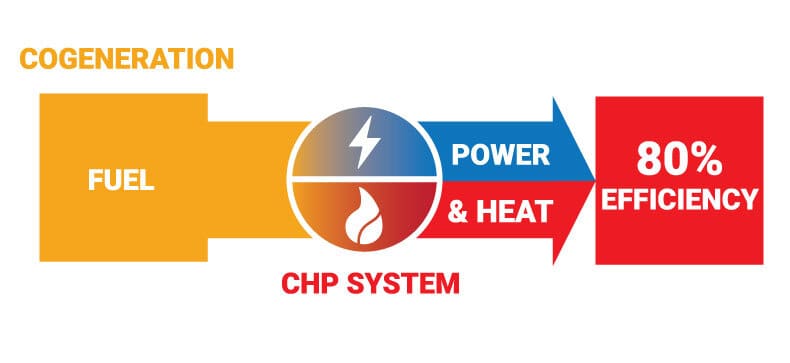 Benefits of installing a combined heat and power unit
There are many industries that would benefit from installing a CHP unit. Taller buildings with one central heating system have the ideal building profiles and stand to get the most out of a CHP unit. These could include schools and universities, breweries and distilleries, office spaces, senior care centers, hotels, hospitals, data centers, manufacturing facilities, retail spaces and distribution spaces to name a few. The benefits awaiting any of these industries upon installation of a CHP unit are outlined below.
1. Environmental Impact
Heat generated by CHP units is renewable, and therefore better for the environment. Installing a combined head and power unit will help your organization lower its carbon footprint.
2. Lower utility bills
CHP unit's reduce the stress on your boiler system which reduces electrical demand and consequently your utility bills. Natural gas is cheap and using it within this system allows typically wasted energy is redirected to heat your facility.
3. Practicality
Combined heat and power units can be mounted and installed just about anywhere- the roof, ground or inside area are all ideal installation spots. These units can be sized to fit your spaces specific needs, and are not overly large to begin with. They have a long lifespan and will last your organization at least 20 years. Additionally, CHP units qualify for a 10% federal tax credit.
Interested in CHP units?
EnergyLink is a certified Energy Service Company (ESCO) who has the knowledge, skills, and team to get a CHP system installed with fast payback. To learn more about CHP units and how to finance them speak with an expert at (866) 218-0830 or click the button below for a free quote.