The Solar Energy Industries Association (SEIA) recently released a solar market insight report for Q2 of 2022. The solar industry has quickly evolved within the restraints of tariffs and policy changes, creating growth within the energy market. Insights from the SEIA report are outlined in this article.
1. Growing generational capacity
Fifty percent of all new electricity generation capacity added to the U.S. power grid in the first quarter of 2022 was composed of solar energy. However, different segments of the solar market experienced different results. While residential solar experienced its highest quarter, commercial and community solar saw a decrease in capacity. This drop in the commercial and community solar sectors is due to a shifting in supply chain and policy dynamics and increasing equipment prices.
2. Supply chain issues are still present
The anti-circumvention investigation through the Department of Commerce has created challenges for the solar industry. Many manufacturers avoided tariffs by halting equipment shipments to the US, which further strained the domestic supply chain. With the ongoing anti-circumvention investigation causing uncertainty in the solar market, expectations for 2022 solar installations have decreased by 29% from the past quarter's outlook.
3. Commercial solar installations declined
A total of 317 peak megawatts were installed in the first quarter of 2022. This installation rate dropped 11% from Q1 of 2021, and 28% from Q4 of 2021. Many projects spill over from the past year to the present, causing an overall decrease in new solar installations. In combination with disjointed supply chains and project delays, developers are experiencing a slow start to commercial solar installations. In comparison to 2021, commercial solar installation is expected to decline by 14%.
4. US solar installation still forecasted to grow
While the present quarter may not see growth, the upcoming years are expected to increase. From 2023 to 2027, solar installation across multiple market sectors is expected to grow in capacity and installation. Although the only sector to grow in Q2 was residential, both non-residential and utility solar capacity are expected to grow in the upcoming years. The graph below shows the forecasted growth of PV installation within the solar market.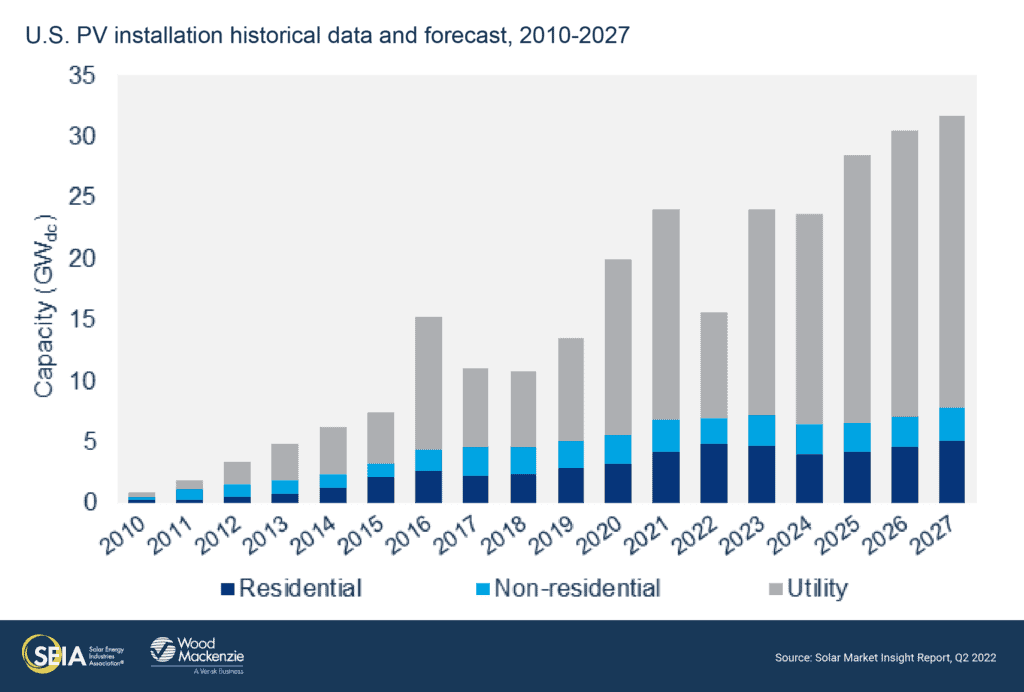 Interested in solar market insights?
If you would like to stay up-to-date on the solar market, fill out the form to subscribe to our newsletter below. If you would like to start our own energy solution project, partnering with EnergyLink will expedite the process of designing, building and funding for your organization. Get started by clicking the button for a free quote.
Questions? Speak with a member of our team directly at (866) 218-0830.