Since commercial and solar technology became popularized, technological advances have made it increasingly affordable and efficient. As one of the first renewable energy technologies to be widely accepted and implemented, solar technology today may be at the end of its life or require updates. This is typically when solar repowering comes into play.
What is solar repowering?
Solar repowering is a process that involves replacing old photovoltaic (PV) modules, trackers, inverters, transformers and/or other technology with new ones. Sometimes it involves improving an existing project with the addition of batteries or bifacial solar. It can extend the lifetime of a project that has come to its term after 20-25 years, fix performance issues with projects that did not achieve their expected lifetime, and increase the financial profitability of the project. Its purpose is to maximize the performance and energy yield of solar projects.
Repowering is often focused on inverters because they offer the greatest potential for performance remediation. Inverters convert direct current (DC) electricity that solar panels generate to alternating current (AC) electricity that the electrical grid uses. In addition to power conversion, inverters are also responsible for grid services, control and monitoring. A simplified solar repowering involving inverter replacement is shown below.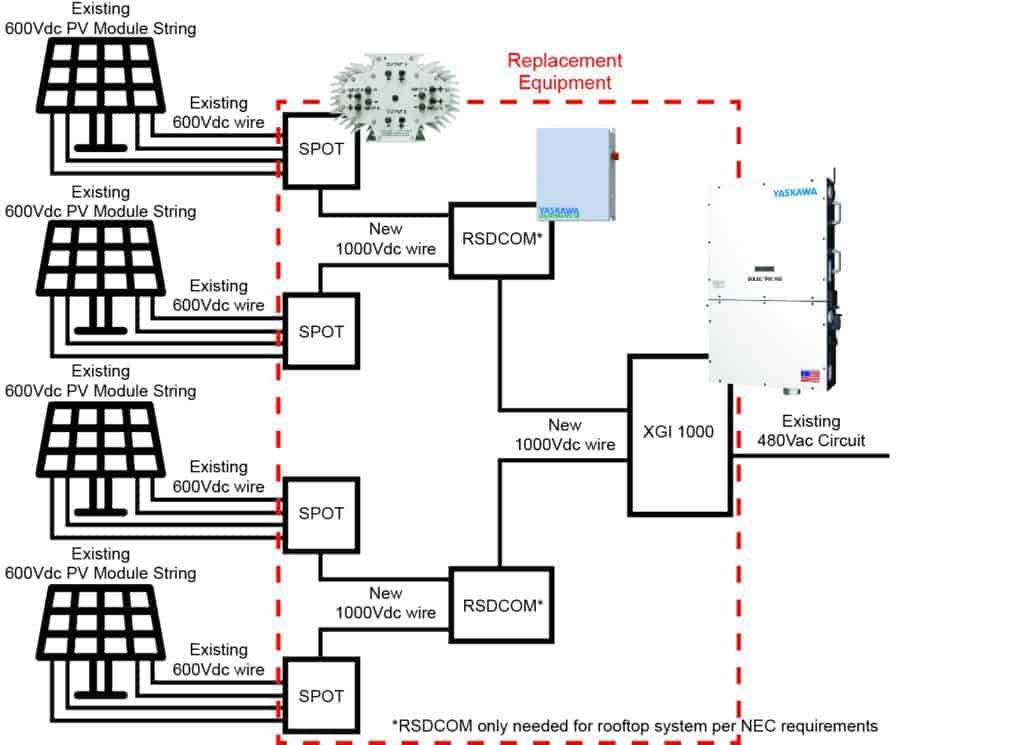 When to repower solar farms
Each solar project is unique and will require repowering at different times depending on the particular project's circumstances. Some factors that can influence this timeline include project age, subsidies, costs, and contracts or regional policies. If your company, city or municipality had a solar farm installed in the past and are either needing repairs or aren't getting the performance you were told to expect, it is time to repower.
Common reasons for solar repowering also include if the project is non-operational, critical technology fails or you are dealing with abnormally high repair costs. However, as solar repowering becomes more popular some project owners are considering repowering before their projects end of life. Another option, planned repowering, is a relatively new phenomenon that includes solar repowering in the plans and budget from the projects beginning.
As previously stated, each solar project is unique and it is important to remember this when considering repowering. It might make sense to repower earlier rather later before your project starts experiencing problems. Take, for example, solar farms operating with technology that is no longer made or sold. This means that it will not be as easy or cheap to find replacement technology. The sooner repowering occurs, the longer the period of time will be to pay for updated technology.
In order to know when to repower your solar farm, it is important to track its performance. Solar performance can be tracked with metering and verification, a process that monitors the power output along with energy and cost savings. Metering and verification will analyze and evaluate the effectiveness and efficiency of your solar project. Tracking your project's performance does not fall solely on project owners. Companies like EnergyLink have experts who perform metering and verifications for completed projects.
Benefits of repowering
Research shows that the market for repowering is about to take off, and asset owner and manufactuers, O&M providers and solar component manufacturers stand to benefit. If after undergoing the metering and verification process you believe your solar farm is underperforming or you would like to get ahead of the game, there are several benefits to reap from investing in solar repowering. These benefits are outlined below.
1. ROI
Solar repowering can reduce operating and maintenance costs, and eliminate the need for costly repairs while increasing efficiency and capacity. It will lead to lower levelized cost of energy (LCOE), which refers to the cost of power produced by solar over a period of time.These improvements along with increased uptime, or the amount of time when the PV system can provide power for the load, will increase the return on your investment. Repowering will also increase the asset's value.
2. Performance & reliability
Repowering your solar project means higher energy yield while utilizing existing land, higher capacity, higher installation security and longer life-span; it essentially renews your solar projects life expectancy. Solar repowering will also eliminate the need for repairs and maintenance, making the technology reliable once again.
Interested in large-scale solar repowering?
EnergyLink can help design, build and fund your next renewable energy endeavor. If you're interested in fixing or selling your solar farm click the button below to learn more or dial (866) 218-0830 to speak with an expert at EnergyLink.