What it renewable energy?
It is energy that is not depleted when used, such as solar or wind power. More and more companies are powered by renewable energy sources. It has became so common that almost half of the biggest U.S. companies have established clean-energy targets for themselves.
Why would companies use renewable energy?
Companies are finding renewable energy to not just be cleaner, but cheaper. A report done by Fortune 500 found that almost 200 companies collectively showed $3.7 billion in annual savings.
This trend is not just about tech companies either. Here are 8 big name companies that are entirely, or have made goals to be, powered by renewable energy.
1. Kohl's, Expects Great (and Renewable) Things
The U.S. Environmental Protection Agency (EPA) list Kohl's as the top green power-using retailer in the country since 2009.
Over 150 of the retail locations have a wind turbine or solar panel on-site. Kohl's was even the first U.S. retailer to announce a carbon neutral goal in partnership with EPA. The retailer has an entire website dedicated to it's environmental goals. Within 5 years Kohl's had purchased enough renewable energy credits to offset 100% of their energy use.
2. Apple certainly does Think Different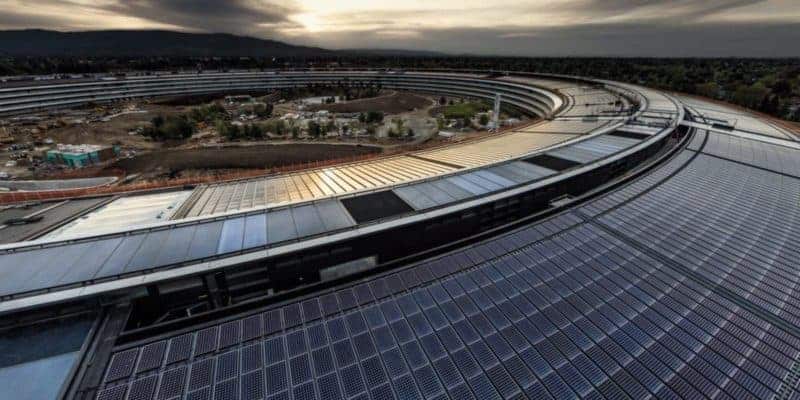 Apple has publicly announced a climate change plan, and released their Environmental Responsibility Report for the 2016 fiscal year online. 96% of the electricity used at their global facilities came from clean energy in 2016, and they are 100% clean in 24 countries, along with all of the data centers.
Apple hopes to get 100% of their supply chain using 100% renewable energy. Apple also hopes to use on recycled and responsibility source paper on packaging. Part of the plan is something that all users can appreciate, more durable devices. If a product last longer, few resources will be used to make new ones.
3. NHL Makes a (Renewable Energy) Power Play
The NHL has made strives to become more green since 2010 when they launched NHL Green. The sport of hockey began on freshwater frozen lakes and ponds, and it is a huge aspect of the hockey culture.
Drastic climate changes and freshwater scarcity will affect future hockey players and their ability to play the outside, where it began. Rinks across North America have made changes inside and outside their ice arenas to improve their environmental footprint such as LED lights and green heat recovery systems.
The NHL was the first professional sports league in North America to publish a sustainability report. It was also the first professional sports team to be on the EPA's Green Power Partnership National Top 100 list. The NHL has also restored an estimated 50 million gallons of fresh water to streams and rivers.
4. Intel, the Sponsors of Tomorrow and Our Future
With the slogan "Sponsors of Tomorrow" it is no surprise that Intel has made a commitment to using renewable energy.
Intel is the leader of the EPA's Green Power Partnership National Top 100 list. Intel is also leads the nation as the largest voluntary corporate purchaser of green power.
They continue to invest in alternative energy and smarter technologies, including more than $145 million in energy-conservation projections. Intel also purchased 3.4 billion kWh of green power in 2015, which met their US electricity use by 100%.
5. Walmart, not Just the Largest Discount Retailer
Whether you love or hate Walmart, you can appreciate the company's dedication to using clean energy.
In 2016 Walmart installed 147.5 MW of solar capacity and 80% of their waste is diverted from landfills. Walmart's goal is to be 100% powered by renewable energy by 2020 and curb greenhouse gas emissions.
Present Obama recognized their efforts in 2013 saying, "A few years ago you decided to put solar panels on the roof of the store. You replaced some traditional lightbulbs with LEDs. You made refrigerator cases more efficient. And you even put in a charging station for electric vehicles. More and more companies like Walmart are realizing that wasting less energy isn't just good for the planet, it's good for business. It's good for the bottom line.
6. Expect More for the Environment, while Paying less at Target
Target aims for sustainable operations and sustainable products and works towards reducing their greenhouse gas emissions.
Part of Target's commitment to the environment includes a long-term interest in designing and operating sustainable and energy efficient buildings. Currently, Target stores use between 15-30% solar powered energy from their solar panels, which eases the burden on local power grids.
Over 1000 Target stores have earned ENERGY STAR status in 2016 and 2017 from the EPA. In stores there are LED lights and motion sensors in refrigerators, low-wattage light fixtures, and more.
7. Ikea Aims to Make the Planet, not just our Homes, More Efficient
"Ikea Group investments into wind and solar energy generation contribute to the shift to a low carbon economy, and from a business perspective, help to secure our future as we become energy independent."
Ikea, the store known for space saving ideas, has made major changes in the last few years to ensure that by 2020 they are using 100% renewable energy. Ikea is already entirely energy independent in the Nordic area, meaning they produce more energy then they consume. Between their distribution centers and stores, they own and use over 300 wind turbines and over 700,000 solar panels.
For Ikea though, it isn't just about their operations, but the products they sell. All of their lights are LED and they even sell their own solar panels.
Ikea is part of RE100, which is a group of influential businesses that are committed to using 100% renewable energy.
8. Nestle, Good Food, Goof Life, and Good for the Environment
Nestle is another company that is on the RE100 list. Nestle hopes to reduce emissions, improve energy efficiency, use clean fuels, and purchase renewable electricity.
The electricity that Nestle's grid collect this past April was used all over the UK and Ireland. All over the world, Nestle sites are sourcing electricity from renewable power sources. For example, Nestle Mexico meets 80% of its electricity needs through wind power.
Nestle Waters is working with a Swiss company to contract an agricultural biogas facility.This facility will produce renewable energy for Nestle's bottling plant. They also hope that the facility will feed electricity into the Swiss national grid.
Using Renewable Energy is Not Just a Trend
Organizations like EPA and RE100 will continue to encourage more and more companies to switch to renewable energy. Companies are recognizing that renewable energy makes a difference in their communities, but also a big difference in their bottom line.